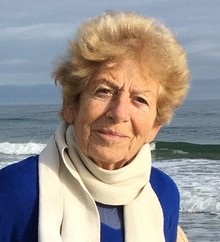 Tribute to Hélène Pour: EARLY RETIREMENT- More work or something new?
Coping admirably with complications of a lung disease, Hélène Pour left us on 8 April 2022, shortly after her 81st birthday. Her final message was "Toujours à la recherche d'un monde meilleur" She insisted that there be no ceremony or speeches. In lieu of those formalities, this tribute presents a short recap of her ILO journey and nearly 30 years of her retirement.
Many of us wonder what retirees do after the ILO. Do they (or we) wander from the familiar path followed throughout a career? What particular goals motivate them (or us) to turn to new horizons? This is one story, certainly among many, and a simple way to say adieu to a dear friend and colleague.
Hélène joined the ILO in 1965 in the Press Department. She loved to write – and somehow managed to keep most of her work (philosophical and political musings and poetry) to herself, which we discovered after she died. But as a young official she quickly worked for UNION on the editorial board. Her articles were sprinkled throughout issues of UNION in the late1960s and the 1970s. Her interviews gave the staff insights into the backgrounds and personalities of new high level officials (Bertil Bolin and Albert Tevoedjre) and a personal exchange with David Morse on art in 1970. She organized a round table of "young professionals" to discuss their attitudes to and expectations of work in the ILO, and wrote a long summary (UNION no. 11 & 12). This summary intrigued Francis Blanchard, who later made it a point to seek out the work of young professionals. When equality of treatment and opportunity for women came to the fore in the 1980s, Hélène interviewed Antionette Beguin who had led a task force, which included SUC members, The Task Force recommendations had little impact for many years, but laid the basis for later progress.
On the professional front, Hélène was never far from information, education and communication (IEC). From writing extracts on vocational training and editing reports on management development, she moved to Workers' Education with a UNFPA funded programme and later to the Employment Department. Developing and producing educational and communication materials on population issues, conducting training programmes in many countries in Asia and Africa and providing technical backstopping to IEC projects in Africa, she considered this work one of the highlights of her career. After a leave of absence for about 2 years with UNFPA /FAO programmes, she returned to the ILO's Employment and Development Department in 1992. Shortly thereafter she took a gamble: early retirement with a huge cut in retirement benefits at the age of 52.
So what do young retirees do with their "free" time? Like many of her colleagues, for a number of years Hélène continued along the familiar path of IEC, focusing increasingly on communications as a consultant. The horizons widened and she turned to films, always on substantive issues. She produced, for example, the ILO film "Tremors" marking the ILO 75th anniversary. And then older stronger sirens called, linked to the arts, building and antiques. Delving into interior design and ecological questions, Hélène embarked on renovating properties with friends. The result was a lovely cottage in the Touraine (complete with a sculpture garden one summer), an unfinished flat and a large apartment in Thoiry. Along the way she pursued her passion for antiques and "brocante", going to different fairs, setting up stands, buying and selling. Her last brocante was in Ferney Voltaire in October 2021. The arts took on a bigger role year after year. She would not miss the Avignon Theatre Festival, nor would she miss the annual photojournalism exhibit Visa pour l'Image in Perpignan.
While she never lost her interest in development cooperation and the Third World, she became increasingly indignant about the state of the world and the planet. She channeled some of her combative energy into the Cercle Condorcet-Voltaire du Pays de Gex in which she served as Vice-President and played a large role in identifying and inviting speakers on topical and challenging issues of the day. Indignant about social injustices, political oppression, human rights violations, racism, violence against women and environmental destruction, among others, Hélène also became more and more of an activist. She participated in every march and demonstration that her health would allow, and then some.
Leaving behind the status and decorum of an international civil servant, perhaps many retirees become more militant and speak out more freely. I am not sure this was a rationale for Hélène. But her acts spoke for themselves. It came as no surprise that her final message was "toujours à la recherché d'un monde meilleur". And it should come as no surprise that she left the bulk of her wealth to a number of human rights, refugee and women's and feminist organisations.
Sally Christine Cornwell
October 2022