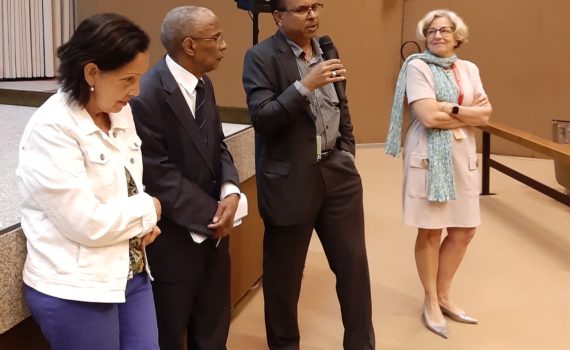 Visit to ILO Geneva by retired trade union members from the French department of Ain (13 June 2019)
Wearing two hats as both Executive Secretary of the ILO Former Officials Section and Council member of the local retirees' branch of the CFDT trade union confederation, I made the suggestion that the branch's annual outing should take in a visit to the ILO on the occasion of the Organization's Centenary in 2019. This duly went ahead, with 50 retirees and activists from the department of Ain, mainly the Bourg-en-Bresse region, being welcomed to the Office on Thursday 13 June by Remo Becci, Chief of Records and Archives. After a brief presentation on the Organization's creation in 1919 as part of the Treaty of Versailles that followed the war, Mr Becci recalled the great moments of the ILO, the only tripartite international organization, before offering a passionate exposition of its missions and activities. For 100 years, the ILO has been active throughout the world in a variety of sectors, and numerous Conventions have been adopted with no little difficulty in terms of design and implementation. Here he particularly cited the Conventions related to working conditions, equality between men and women, and abolition of both forced labour and child labour.
Three ILO retirees, all members of the Former Officials Section, voiced their strong commitment to achieving greater equality and justice in the world of work. First came Dan Cunniah, former Director of the Bureau for Workers' Activities, and Abdoulaye Diallo, former staff member of the same unit, who is still active in the African Workers' Group. Carmen Sottas, formerly with the Standards Department, expressed her commitment to setting standards in the world of work and the abolition of forced labour in particular. Then the Chair of the ILO Staff Union Committee, Catherine Comte-Tiberghien, spoke of the difficulties and constraints facing staff working at the ILO, particularly with regard to work-family balance and assignment to other continents.
The visit coincided with the Centenary Session of the International Labour Conference, which enabled participants to meet delegates from all continents. The Conference adopted a new ILO Centenary Declaration for the Future of Work, setting out basic principles governing the missions and activities of the Organization, as well as a more specific Convention concerning the elimination of violence and harassment in the world of work, which will now have to be incorporated into national legislation in order to become effective.
After a brief stop at the Place des Nations and a photo in front of the Broken Chair symbolizing the victims of landmines, the visitors breathed in the fresh air of Lake Léman before calling at Ferney to visit Voltaire's chateau, where the philosopher and writer lived from 1759 to 1778. In the opinion of one of the retirees participating, the group had had an "exceptional" day.
François Kientzler