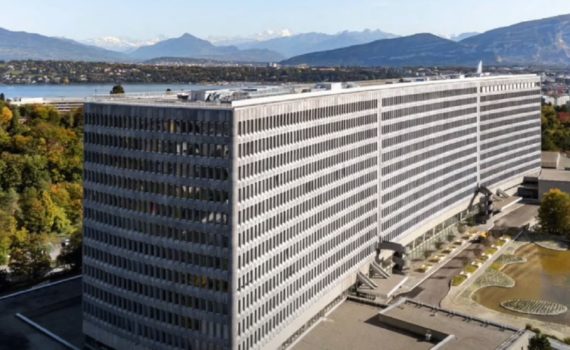 Director-General: I am confident we will deliver as One ILO
​​In his new year message, Director-General Guy Ryder thanks staff and recognizes the professionalism, creativity and resilience that ensures that the ILO can continue to deliver during an important year ahead.​
Dear colleagues,
I wish you all a Happy New Year.
I hope that you had chance to relax and recharge your batteries safely with family and friends.
A new year traditionally brings hope of renewal and a better future.
Yet for now at least, we start 2022 with the global pandemic situation still very uncertain and unpredictable.
COVID-19 continues to take a significant human toll worldwide – on health, livelihoods, economies, societies and our own daily working lives.
But, we cannot be discouraged.
Throughout the pandemic we have shown that we are able to deliver as one ILO even in the most difficult circumstances. And I thank you all for your hard work and determination in making this happen.
We have to continue to rise to the challenge of remaining relevant and influential as COVID-19 continues to have its far-reaching impact on the world of work. ​
We will start the new year as we concluded last year by informing and influencing the global policy response to the crisis.
On 17 January, the "World Employment and Social Outlook Trends" report will provide the latest labour market analysis on COVID-19's impact. Later in the year the ninth edition of the ILO Monitor on COVID-19 will also be published.
In February, the ILO will host the Global Policy Forum for a Human-Centred Recovery from COVID-19. This will be a key moment for the multilateral system and will shape how we work together to deliver on the Global Call to Action.
We will be embarking on the plan of work set out in the 2022-23 Programme and Budget. It's an ambitious agenda to tackle the enormous challenges faced by the world of work. Drawing on our ability to collaborate across countries and regions, adhering to the highest standards, I am confident we will deliver.
Although it is still too soon to say how they will operate, the Governing Body and the International Labour Conference will continue to take important institutional decisions in 2022. The Conference will decide on inclusion of safe and healthy working conditions as a fundamental principle and right at work and maintain its standard-setting function with a first discussion on apprenticeships.
And, meanwhile, the Governing Body will, in March, elect the next Director-General.
These highlights show that the life and work of the ILO will go forward in 2022 just as it has over the last two years.
It will be a busy and challenging time requiring flexibility, creativity, and resilience. But we have shown that we possess all of these qualities.
At the same time, we need to be attentive to our individual and collective well-being. The Organization has a duty of care to you and we have a duty to each other.
This means we must continue to follow strictly all of the COVID-19 protocols at work and in our daily lives.
It also means ensuring a healthy work-life balance whether we are teleworking or working from our offices around the world.
Yes, we must work effectively but we need also to protect our mental, as well as our physical health. Systems of support are available, so please don't hesitate to speak up and use them if in need.
This will certainly be a year of change for the ILO.
But our commitment to the values of the ILO and service to constituents remain constant and we must live up to it.
We have seen the best of ourselves in these times of adversity. I know that whatever lies ahead, we will approach it with the same professionalism, ingenuity and pragmatism, that we have shown these last two years.
I wish you and your loved ones a successful, happy and much improved 2022, and I very much look forward to seeing you soon, at least virtually.
Thank you for your continued hard work and commitment.
Guy Ryder
Director-General​​​